Your Best Local Decorative Concrete Resurfacing Service
St. Louis Resurfacing is
the leading installer of
Pebble-stone epoxy in Missouri
Are You Looking For The Best Floor Coating Installation Company In St. Louis, Missouri?
Trusted Epoxy Flooring Contractor in St. Louis, Missouri Since 1990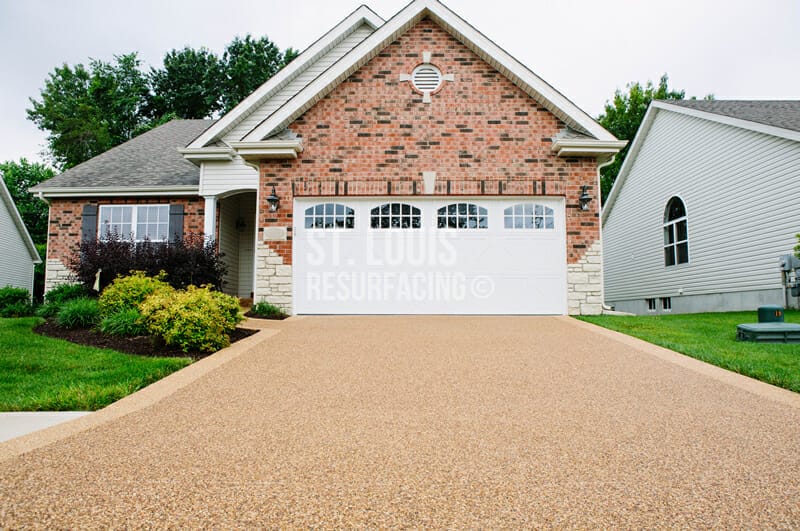 The Solution for ugly, pitted, stained concrete is here. We repair cracks then cover them with our beautiful river rock epoxy application filling any voids along the way.
Established In 1990. Pebble-Stone Epoxy Flooring & Concrete Contractor Services.
This is the best option for the job! Our Pebble Epoxy Flooring System is a superior solution for concrete floor resurfacing because it doesn't just fix the surface, it covers and protects the concrete floor underneath in the process. Plus, It can be more durable, stain-resistant, chemical resistant, crack resistant. Get your concrete floor resurfaced with our cost-saving, hassle-free process.
Concrete floors are very hard to maintain, always getting stained, salt damage, prone to cracks, and just not as attractive as decorative concrete. Your existing concrete can be resurfaced using our Epoxy & Pebble Flooring System! It's a much better solution than removing the existing flooring and installing new concrete, and we are in and out with our quick curing epoxy resin. The result is a new decorative river rock finish with a similar but more attractive look than exposed aggregate.
Get your concrete resurfaced today with our cost-saving, hassle-free process.
We would love to give you a free estimate and show you all the colors we have available!
The cost of Pebblestone epoxy flooring is less than the nightmare of having the concrete torn out of your home. Our Alternative to concrete removal Can put your problems at ease.
Do You Have Ugly Concrete?
Looking for the Best Pebble-Stone Epoxy Floor in St. Louis?
Why Choose St. Louis Resurfacing?
Nationally Recognized & Certified Installer of Pebblestone Epoxy System
Pick your color and let us do the rest!
Ask about our variety of different pebbles and colors that we have available to cover your concrete in St. Louis.
Years Of Combined Experience In Pebble-Stone Epoxy Flooring Services. Our Team Can Help You Today.
We will happily help you, whether it's refinishing concrete at your residential home or a local contractor looking for a commercial and industrial epoxy flooring installation in St. Louis
Beautiful custom decorative borders and designs available!
Local St. Louis Company & Affordable
There is no need to pay a concrete company to tear out your old concrete because our pebble stone epoxy flooring system is your decorative concrete solution. We are an all-in-one concrete restoration company. Save your time and money by letting St. Louis Resurfacing repair concrete cracks and utilize our epoxy floor system. If you are looking for the top epoxy floor coatings in St. Louis then give us a call. Our company was founded in the "Show-me" state of Missouri in 1990 and we are a family-owned and operated business. At St. Louis Resurfacing, Inc, our customers,  general contractors in St. Louis, and homebuilders in Missouri refer to us as the best epoxy flooring company in St. Louis that they have had the opportunity to work with.
Fast Installation Window Time & Convenient
Most installations can be performed in one day. Whether we are doing your front porch with epoxy stone or your driveway, most of our installations can provide your cracked concrete a complete transformation in one day and is a major home improvement. As special as your garage floor or driveway is to you, we know how important it is to get back to driving on your surface. That is why St. Louis Resurfacing only uses the highest quality epoxy resins for your concrete work. We utilize different types of epoxy resin adhesives depending on the decorative concrete application. If you are looking for the top epoxy floor coatings in St. Louis then give us a call. St. Louis Resurfacing, Inc. delivers the best decorative concrete installation experience to your home and neighborhood!
Epoxy Floor Coatings Are Simply Beautiful
The Pebblestone Epoxy System has a variety of beautiful colors of epoxy stone to choose from. Each river rock is coated with a high-performance epoxy resin formulation engineered for indoor and outdoor flooring. You don't have to worry about getting concrete stains on your floor again. Because our residential or commercial epoxy stone flooring system goes right over the top of your existing concrete surface. Why tear out your concrete when you can have the best epoxy flooring installers in St. Louis cover those old, ugly concrete cracks and give you a beautiful new decorative concrete surface with natural stone?
Did you know? Instead of tearing the concrete out around your home, you could just resurface it with epoxy & stone.
Serving The Greater St. Louis Region & Neighboring Illinois Cities For Over 3 decades.
View Our Decorative Concrete Resurfacing Galleries
Pebble Paving St. Louis Since 1990
What St. Louis Homeowners are saying about Our Decorative flooring systems and Quality of Work:
We were impressed with how quick the turnaround time was for the installation on our patio. The workers were professional and thorough. It was easy to communicate with the company and to schedule an appointment. They showed us all the colors and we picked our color. This pretty much sums up the process on our end and then they come out and do the rest. I will definitely recommend them to my friends and family.
This company was recommended by our neighbors and we cannot say enough good things about them. We are so pleased with the results and how beautiful the epoxy and pebbles turned out. The customer service has been outstanding. They are prompt, professional, courteous, and very thorough. They have saved us a lot of time and money.
St. Louis Resurfacing has done a fantastic job resurfacing our front porch and sidewalk. Our porch was cracked. They fixed the cracks and took care of the stains and then applied the pebblestone. We have a ton of compliments on our porch and how nice it looks. They are also very responsive to any of our needs. I highly recommend this company to anyone looking to add some extra curb appeal to their home.
My husband loves our new patio. It's easy to clean, durable, and so easy to maintain. The crew was so professional and courteous. I don't think I've ever had such a good experience with contractors before. We're looking forward to working with them again in the future for our garage floor.
Let us take care of your concrete surface while you enjoy all the benefits of Pebblestone Epoxy Resurfacing. Don't tear it out! Resurface it instead!
No Headache, no Hassle. Just Decorating & Protecting Your Concrete for years to come.
Pebble Stone Epoxy Resurfacing
A better alternative than tearing your concrete out!
Concrete Resurfacing, Stone & Epoxy Coating Specialists.
Residential Epoxy Flooring and Coatings St. Louis, Missouri
The leading decorative concrete installer and best epoxy flooring company in St. Louis, Missouri. St. Louis Resurfacing, Inc has been installing pebble stone epoxy for decades on concrete driveways, front porch, and entranceways, sidewalks, garage floors, patios, sunroom, basement floors, and pool deck surfaces. Our natural stone and epoxy floor is the decorative concrete resurfacing overlay of choice for your home. We offer a variety of beautiful epoxy stone colors and custom stone border designs. Pebble stone epoxy driveway coatings are on the rise and bring an elegant exposed aggregate concrete look but are prettier and easier to maintain. Our decorative concrete driveway epoxy coatings are strong, durable and designed to withstand the harsh winters of Missouri, and will withstand vehicle traffic. This decorative concrete resurfacing system is strong, durable, and the thickest epoxy and stone overlay we provide. We service all of St. Louis County and St Louis Cities, Washington County, Franklin County, St. Charles County, Lincoln County, Warren County, Jefferson County, Also Madison County, St. Clair County, and neighboring Illinois Counties.
Commercial Flooring & Industrial Epoxy Floor Coatings
St. Louis Resurfacing, Inc works alongside all the St. Louis General Contractors, Project Managers, St. Louis Architects, Home Builders, and more professionals. We understand that you need a high-strength commercial floor that is durable and engineered to withstand high foot traffic or vehicle traffic. That is why we brought the pebble stone epoxy coating into St. Louis, Missouri, decades ago. Industrial epoxy coatings are becoming the best commercial flooring type in St Louis. If the concrete floor is exposed to chemical spills, extreme temperature changes, constant heavy machinery, then epoxy flooring is your best choice. Pebble stone epoxy can make any front entrance or back entrance able to withstand thousands of walking foot traffic. It is a perfect commercial floor surface that your company will enjoy indefinitely. This epoxy coating is a perfect and safe floor for commercial and industrial flooring featuring a slip-resistant floor surface. Pebble Stone Epoxy is stain resistant and easy to maintain giving you another reason why you need this floor for your company building.
St. Louis Homeowners Love Our Company and Our Pebble Stone Epoxy Flooring
Our crew is professional, experienced, trained, and diligent, certified installers of epoxy stone and always St. Louis Resurfacing, Inc employees. Homeowners especially love our pebble stone epoxy coating for their garage floor. We offer several colors and sizes of stone for epoxy garage floors. Our garage floor epoxy coating is the final floor you will need perfect for your custom workshop or tool shed. Let us design your epoxy flooring for kitchen use. We provide the best pool resurfacing St. Louis has to offer. A custom pool deck overlay with a textured surface, slip-resistant surface, and smooth to walk on for your feet. Local St. Louis pool companies and pool cleaning companies recommend our company to their customers because we are known for our safe surfaces. Don't tear out your cracked concrete and instead resurface it. We can't wait to talk to you and we promise to make your concrete surface beautiful. Request a free estimate and let Saint Louis Resurfacing deliver a decorative concrete service to your home. We have been transforming floors since 1990.
We Work With Local Contractors, Local Businesses, Companies, Architects, and Homebuilders in St. Louis, MO
From one professional to another, if you are looking for commercial concrete coatings in St. Louis then give us a call and tell us about your industrial floor project and we will give you our input and advice. We love resurfacing front entrances, side entrances, back entrances, churches, dealer showroom floors, concrete slabs, warehouse floors, hotel floors, motels, factory floors, chemical plants, buildings, architecture sites, commercial basement floors, restroom floors, refrigerator areas, office building floors, distribution center floors, laboratory floors, manufacturing floors, machine shops, steel factory, industrial plants, and more. A good benefit of our high-performance epoxy stone flooring is that it is versatile in any room or building. St. Louis Resurfacing promises to give you a unique and beautiful floor surface for your business. When you see the pebble stone epoxy floor in your business place you will see why our natural stone epoxy surface is stronger and more durable than typical LVT (luxury vinyl tile), VCT (vinyl composite tile), brick pavers, carpet tile, urethane cement, portland cement, hardwood floors, carpet, and ceramic tile.
Decorative Concrete Resurfacing St. Louis, Missouri
Resurfacing Your Concrete Adds Value to Your Home!
View Our Pebble-Stone Resurfacing Galleries
Patio resurfacing using our pebblestone overlay will give your concrete patio a desired natural stone and exposed aggregate look. This system is more appealing than a stamped concrete patio with our higher tension strength surface. Our decorative concrete system is an outdoor floor you and your family will enjoy for years.
Decorative concrete driveway resurfacing is made possible with our Pebble Stone Epoxy driveway coating. Our driveway floor system is engineered to withstand vehicle traffic. This driveway is easy to maintain and clean because it is stain, and chemical resistant. Driveway resurfacing costs make this system affordable. Our representatives make concrete epoxy resurfacing easy by giving you tons of driveway ideas.
Concrete pool deck resurfacing is popular as homeowners get ready for summer to open the pool. You can browse our gallery for popular pool deck ideas and see another pebblestone pool. St. Louis Resurfacing, Inc would love to beautify the concrete around your pool deck. You will enjoy pool safety using your new pool deck that will feature a slip-resistant pool surface.
The front entry to your door should be special and unique. Your front entrance is made beautiful overnight with our decorative concrete stone finish. Pebble stone epoxy goes perfectly over the concrete around your home and can cover your walkway for a seamless look. Our estimators can help you choose a color and they will have plenty of concrete porch ideas. We can provide your front porch with a beautiful new decorative surface.
You should consider Pebble-Stone Epoxy if you are tired of seeing painted garage floors peel. Our Pebble-Stone Epoxy system will bond permanently to the concrete surface. The look of the epoxy stone will transform your floor and you will not regret having an epoxy garage floor in St. Louis.
The photos that are shown on our website are all local decorative concrete installations that St. Louis Resurfacing, Inc has personally installed in residential neighborhoods in St Louis. Decorative concrete pool deck surface in Chesterfield, Missouri. Pebble stone decorative patio in O'Fallon, MO. Pebble stone decorative driveway in St. Charles, MO. Beautiful front porch in West County, Missouri. Epoxy Garage Floor in St. Louis, MO. Basement Floor in Wentzville, MO, just to name a few areas we have done concrete resurfacing in St. Louis.
The cost of Pebblestone epoxy flooring is less than the nightmare of having the concrete torn out of your home.
A better alternative to tearing your concrete out!
Need A Free Estimate For Concrete Resurfacing In St. Louis, MO?
Do you need a new driveway, patio, walkway, front porch, backyard, or some other type of outdoor paving or indoor flooring system?