About St. Louis Resurfacing
Your Concrete Matters to Us.
Professional and Expert Pebble-stone Epoxy Flooring Concrete Contractors in St. Louis, Missouri
About St. Louis Resurfacing, Inc:
Founded in 1990, St. Louis Resurfacing Inc is family-owned and operated. We have long been considered the pioneer leader throughout the Midwest in decorative resurfacing with pebble-stone epoxy flooring. We are a professional service-based company, licensed and insured contractor that specializes in river rock, pebble paving with river stone aggregates, pebblestone epoxy flooring, and concrete resurfacing.  We use a custom blend of natural stone and epoxy to cover your concrete surface. Our river rock system is applied as a thick layer over the top and hand troweled to a smooth finish. After cracks are expertly repaired of course. 
Our company provides excellent customer service and is known for our honesty when it comes to helping you and determining if your concrete is right for our system.
St Louis Resurfacing, Inc. has done work all over the St. Louis area, other regions of Missouri, and as far away as our neighboring cities in Illinois. We have also completed thousands of residential concrete remodeling projects and commercial construction projects for business owners and companies. Our work, level of detail, and craftsmanship have earned us a reputation for quality and durability. We have always had a high focus on residential concrete resurfacing.
Concrete Resurfacing & Coatings
Our Beautiful River Stones Come Straight from nature. Then applied with epoxy and hand-troweled over your concrete surface
The installation is completed by our highly trained concrete resurfacing team and generally installed in one day, some jobs could differ in size and complexity requiring more time. St. Louis Resurfacing, Inc has applied our Pebblestone Epoxy System on thousands of residential and commercial jobs throughout the greater Metropolitan St. Louis, Missouri area in addition to Illinois and further locations. We do travel so if you wonder if we service your area just ask. 
Front Porch and Sidewalk Resurfacing To the Garage Door
Custom Stone Borders & Designs Available
We having been serving the Missouri & Illinois area for over 25 years with honesty and integrity. We are a member of the Better Business Bureau (BBB) as well as the Home Builders Association and take pride in enjoying an excellent record with both.
Years Of Combined Experience In Pebble-Stone Epoxy Flooring Services. Our Team Can Help You Today.
St. Louis Resurfacing, Inc
Enjoy a Walk on Your New Floor The Next Day. Drive on it After 3 Days.
Our mission is to provide the best quality concrete resurfacing and pebble-stone epoxy flooring installations in the industry straight to the doorstep of your home or business. We strive to be the best by providing superior UV Resistant products, resins,  superior service, and using only the highest quality materials. By doing this, we have been able to establish a solid reputation for trust and integrity and remain the company of record in St. Louis, Missouri.
At St. Louis Resurfacing, Inc, We have always kept a large focus of our company on the residential pebble-stone floor installations. We have enjoyed meeting all of our homeowners over the years while doing on-site estimates. And although we do big commercial jobs too we believe we have perfected the art of the application of this system for beautiful, elegant concrete spaces around your home.
After all, we have had over 31 years to fine-tune our precise methods and the epoxy resin we use can't be matched. Commercial jobs are too easy and some building contractors don't even care if the work looks good. Other companies dive headfirst for these opportunities because the bigger the job the more money. But here at St. Louis Resurfacing, Inc we have a reputation to hold and a high standard of practice to maintain and residential concrete resurfacing is our bread and butter. Basically, you would develop more skills and learn more techniques on one residential installation than you would on a hundred commercial jobs. We are the go-to company for commercial jobs too because of the keen eye we have developed on our residential installs and our level of detail for beauty.
Our attention to detail, combined with our "can-do" attitude has enabled us to become one of the leading companies in the St. Louis area. We are a very hands-on company that truly cares about each of our customers. 
Our commitment to our customers is what has kept us in business for over 3 decades.
We pride ourselves on our excellent customer service and our ability to meet our customer's needs and provide decorative concrete solutions.
We believe in building a strong, long-term relationship with our customers by providing them with the highest quality products and services at the most reasonable prices. This philosophy has enabled us to achieve a very high rate of repeat business from our customers. We look forward to earning your business for many more years to come
St Louis Resurfacing specializes in providing homeowners with cost-effective ways to give their old floors a new life.
We are a family-owned and operated business with big ideas. We thrive on complexity and we love a challenge.
If you've lived in St. Louis for a while, then I'm sure you have seen our slogan "Ugly Concrete?"
Traveling back in time to one of our early advertisements in The St. Louis Post Dispatch Newspaper
The only thing that has changed since then is the increasing skill, experience, and techniques that we have gained over time.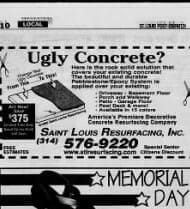 *Newspaper advertisements on the website are archived and for educational purposes only and may not be valid any longer. Call us today to find out our current offers, coupons, discounts, and savings. (314)-576-9220
We Cover All Your Concrete Repair and Restoration Needs. Our Concrete Resurfacing System and Techniques could help solve your ugly concrete problems, cracks, pitting, stains and more.
A lot of people want simplicity. Nobody wants to have a crew come to rip out the concrete in your neighborhood or business. Concrete overlays are a must-have addition to your home.
Some Popular Resurfacing Areas:
What our Homeowners are saying about Our Decorative Concrete Resurfacing Services:
We called them and they sent a crew out that did a great job on our garage floor. They took care of everything from cleaning up to making sure there were no messes. They finished on time. I would love suggest this company to anyone who wants to get a nice finish on their floors.
I was looking for a way to give my old deck a new life without having to spend a small fortune and have a ton of maintenance involved. After researching the options online, I found this company. They quoted me a very fair price for a complete resurfacing job with pebble epoxy flooring. I went ahead and booked them for the date they provided and they got the job done in record time. They really did a great job and the installation crew was very friendly.
We used them to resurface our patio and it was a very pleasant experience. They were professional. They listened to our concerns and addressed them. We are grateful not to have a company out to remove the concrete anymore making this pebblestone system make a lot of sense. Great service!
Want To See All Of Our Color Options and speak to a concrete designer? Get A Free Estimate Today.
Coating Solutions For All Concrete Surfaces.