The Beauty of Natural Stones. The Durability of Epoxy.
What is Pebble Stone Epoxy?
Pebble stone epoxy is a combination of natural river stones, river rocks, pebbles, and epoxy resin that when mixed together creates a beautiful, elegant, high-strength concrete resurfacing system. Our high-quality epoxy resin that is used in the pebble stone epoxy resurfacing process is a two-component system consisting of a resin and hardener that is UV resistant and engineered to resist the extreme weather changes in Missouri. Pebblestone epoxy is freeze-thaw stable making it the ideal indoor and outdoor flooring application in St. Louis.
Our professional employees mix the two components together, which creates an active reaction process that forms a permanent hardened adhesive in return.  We use epoxy resin to achieve a permanent bond to your concrete surface. Although the epoxy hardens, our formulation inherits flexible characteristics due to the epoxy ratio and formula. The flexibility characteristic traits of our epoxy resin polymers make them resist heavy impact and support vehicle traffic. The pebble stone epoxy system will cover the pre-existing concrete around your home so that you don't have to tear any concrete out.
Pebble-Stone Epoxy Features:
Most installations can be done in a single day!
Variety of designs, borders, and colors to choose from!
We repair the concrete cracks before covering them with pebble stone
Resists heavy foot traffic and vehicle traffic
Affordable and Convenient
Oil Resistant
Stain Resistant
Chemical Resistant
Salt Resistant
Slip Resistant
Warranty included
Pebble Stone Epoxy Resurfacing St. Louis, Missouri
Resurfacing Your Concrete With Our Epoxy Stone Overlay Adds Value to Your Home!
Pebblestone Epoxy is a Great Choice When You're Looking For a Floor That's Going to Stand the Test of Time.
How Long Does It Take To Install Pebble Stone epoxy?
St. Louis Resurfacing can install most pebble stone resurfacing projects in one day and in fact, can take just hours in some instances! It's another reason why it has grown rapidly in popularity. We ensure to repair concrete cracks, clean and prepare the surface professionally. We use a non-invasive approach when it comes time to install your new concrete resurfacing project. Our employees are mindful of your yard and ensure to fully clean up after our services have been installed and take the necessary steps to protect and cover our work environment.
Epoxy has a short working time before it cures, which is why we work quickly and efficiently when the mixing begins to beautify your concrete. We do things right the first time and we don't cut corners. That is why we have held a reputable name and grade with the Better Business Bureau for all these years. It is why homeowners in St. Louis continually choose us to install their pebble stone epoxy system!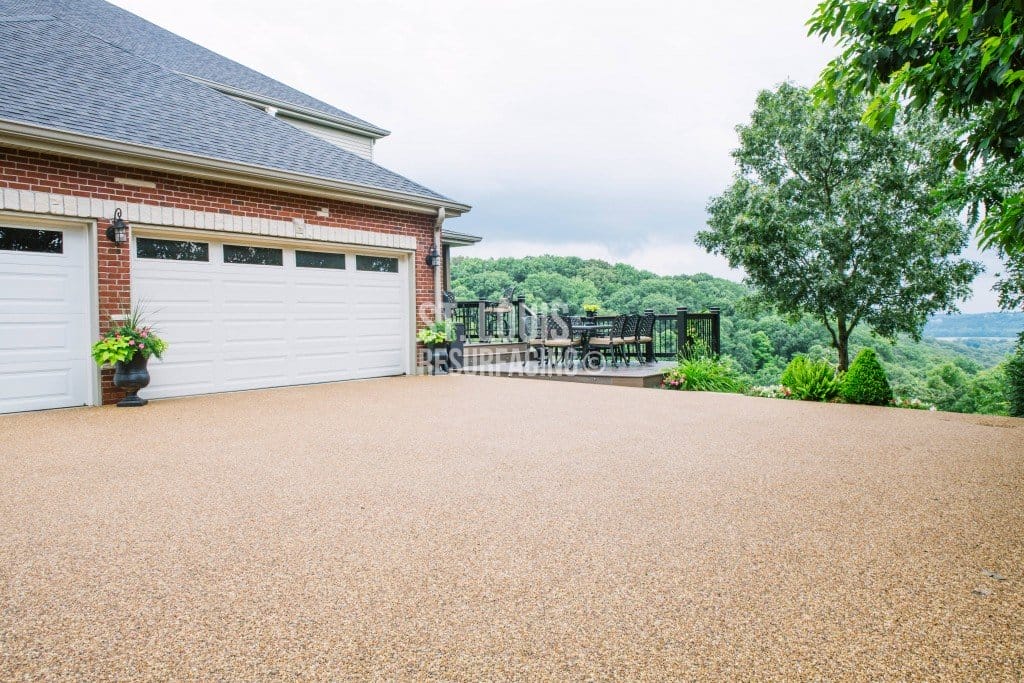 What Kind of Epoxy Is Used For Installing The Pebble Stone System?
As mentioned previously, our resin is the highest quality epoxy available in the United States. It's specifically designed for the pebble stone install application. The location, application, and weather determine which of our epoxy resin formulas will be used during the install process. For residential and commercial flooring unless the weather is very warm, we use a fast-acting epoxy adhesive for the pebble stone system. This allows you to use your new floor at your home or business as quickly as possible.
Because timing is important when installing pebble stone epoxy, we monitor the weather, moisture, and humidity levels to determine further which of our formulas we will use. We have different epoxies designed for different use depending on the temperature in St. Louis that day.
How Do You Install Pebble Stone Epoxy?
Pebblestone epoxy is installed by professionally trained and certified employees of St. Louis Resurfacing. First, the concrete surface that we are resurfacing must be cleaned and prepared by our installers so that it is ready to receive the epoxy stone to form a permanent bond to the concrete. Then we repair cracks in the concrete and fix any abnormalities that we see. We perform surgery on these cracks and fill them to prevent them from causing further damage to your concrete. After we have prepared and prepped the surface we order custom form boards that we cut to fit your installation diagram. These form boards are installed all around the outer perimeter of your concrete similar to when they pour concrete. We use a special product that will make releasing the pebble stone epoxy from the form boards easier.
We honor all the existing expansion joints on the concrete and place our own all-weather strips that adhere to the surface. With our pebblestone epoxy system, we can build up and even out uneven concrete slabs with extra pebble stone and epoxy that will give you a smooth floor so you can avoid having any slanted concrete slabs. Our professional epoxy mixers have great attention to detail when mixing these important epoxy resin components that are crucial to having a lasting floor. The epoxy is then mixed with a precise amount of natural pebble stones and brought from the mixer back to your concrete surface. At this point, the pebble stone epoxy is ready to be applied over the concrete. Pebble stone epoxy is hand troweled by our experienced installers and packed down tight to ensure structural integrity.
Our employees at this point work efficiently and quickly by working as a team synchronized in unison by bringing mix after mix until the job is finished. Although the pebble stone epoxy system is naturally textured from the stone at the end of the process we take extra steps to ensure a safe slip-resistant surface by applying an additive over the finished product making it even more slip-resistant. Our crew will then clean up and pack up all of our tools and leave your yard clean. You can now enjoy a long-lasting epoxy stone floor! Our customers can tell you about our craftsmanship!
What Pebblestone Color Options Are Available And What About Custom Border Designs or Logos?
The pebble stone epoxy system comes in a variety of beautiful colors for you to choose from. The stones and pebbles also vary in size including small, medium, and large stones. The natural stone is what's great about this system, it can transform your ugly concrete into a beautiful stone surface in a single day. The pebblestone epoxy system can be highly customizable with different border options. We can highlight areas or even layout a border design if you really want to show off your new decorative concrete installation! We can also highlight concrete steps in a bold color to make it easier to see when walking up or down the steps for more safety.
Basic logos, letters, and designs can be achieved using different accents of stone color. Our stones are derived from the earth and integrated into the epoxy. One of our representatives can bring a color sample board to your home and show you the different colors and sizes of stone we have to offer in pebble stone epoxy. We would be more than happy to help you pick out a color or design!
How Do I Clean The Pebble Stone Epoxy System?
Cleaning the pebble stone epoxy system is very simple. You can hose it off with water and soap or power wash it. You're not going to hurt the system because it has a higher PSI and surface strength than concrete. Pebble stone features an oil resistant, stain resistant, and chemical resistant surface so cleaning the system is made easy.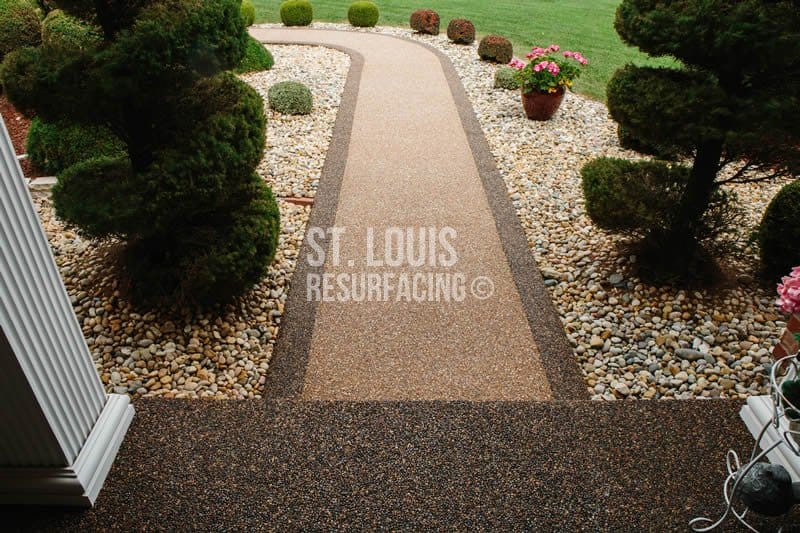 Can I Resurface Some of The Concrete Areas Around My Home or Does It Have To Be All?
This is your project, so it is your choice! As much as we would love to resurface ALL the concrete around your home, we completely understand if you just want one area resurfaced. We can resurface as little or as much concrete as you need! Small projects or big projects, we can help. We can always come back in the future to resurface more areas. Our epoxy stone system can tie into the previous epoxy-pebble installation.
What Surfaces and Areas Are Perfect For Pebble Stone Epoxy Resurfacing?
Bathroom Resurfacing
Sunroom
High foot traffic areas
Heavy impact or heavy load
Showroom and Gallery
Commercial Front Entrance
Hospital
Veterinary Clinic
Business Buildings
Airport
Hotels and Motels
Doctor Offices
Indoor and Outdoor
Restaurants
Choose From Our Beautiful Natural Epoxy Stone Colors
What Our St. Louis Homeowners Are Saying About Epoxy Stone Resurfacing
Don't just take it from us, let our customers do the talking!
Seasonal Discounts Available